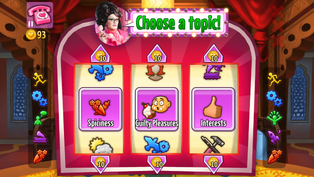 Every time you pull the
Love Handle
on the Fruit Machine three possible conversation topics will become available. If all three slots stops on the same topic, you'll earn 10 extra coins.
You can nudge every row on step, up or down, by spending 10 coins.
Most of the dates responses on topics is based on their type.
As your reputation level rises, new conversation topics will become available.
Possible Topics:
Edit
Bad Habits
Guilty Pleasures
Weather
Zodiac Sign
Ad blocker interference detected!
Wikia is a free-to-use site that makes money from advertising. We have a modified experience for viewers using ad blockers

Wikia is not accessible if you've made further modifications. Remove the custom ad blocker rule(s) and the page will load as expected.